T-Mobile Is Sending a Mass Text Warning of 'Industry-Wide' Phone Hijacking Scam
Published on February 6, 2018 by Jonah Sea · No Comments
If you're a customer of T-Mobile in the United States, you may have recently gotten a somewhat alarming, and perhaps confusing, text message.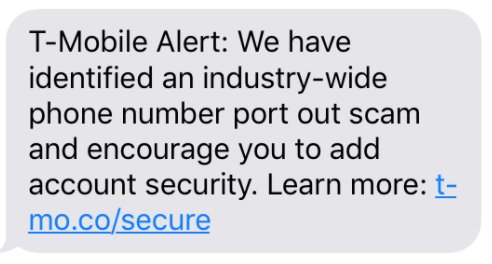 A screenshot of a text message alert T-Mobile has been sending customers in the last few weeks
This is a legitimate, real T-Mobile alert, the company confirmed to Motherboard on Monday. A company representative said T-Mobile is messaging its "entire post-paid customer base," but some customers may have yet to receive the alert as "that takes time and can't be done all at once."
"Phone number port out scam" is an obscure term, but it refers to a relatively simple, highly effective and dangerous hack. The scammer calls T-Mobile (or another cell phone provider), or goes to a store, and impersonates the target victim, requesting a new SIM card for the victim's phone number. The same process works also by "porting" the phone number to another provider, giving the attacker access to the victim's phone number.