The sole output of America's Establishment/Ruling Elite is self-serving hubris.
America's Ruling Elite is freaking out because a significant percentage of the American public is trying to fire them. The Ruling Elite has failed and deserves to be fired, and deep down, they know it–and this awareness of their self-serving failure fuels their panic and their loathing of the non-elite Americans who are trying to fire them.
If you think this chart of soaring student loan debt is a sign of "success," you are 1) delusional 2) protected from the dire consequences of this failure 3) getting your paycheck from this failed system. That in a nutshell is the state of the nation: those who are protected from the consequences of failure are loyal to the Establishment, as are the millions drawing a paycheck from systems they know are irredeemable failures.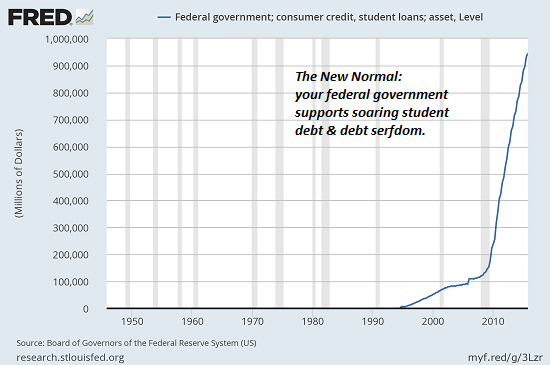 Let's review the central institutions of the nation:
1. Healthcare: a failed system doomed to bankrupt the nation.
2. Defense: a failed system of cartels and Pentagon fiefdoms that have saddled the nation with enormously costly failed weapons systems like the F-35 and the LCS.
3. Higher Education: a bloated, failed system that is bankrupting an entire generation while mis-educating them for productive roles in the emerging economy. (I cover this in depth in The Nearly Free University and the Emerging Economy and Get a Job, Build a Real Career and Defy a Bewildering Economy.)
4. Foreign policy: Iraq: a disaster. Afghanistan: a disaster. Libya: a disaster. Syria: a disaster. Need I go on?
5. Political governance: a corrupt system of self-serving elites, lobbyists, pay-to-play, corporate puppet-masters, and sociopaths who see themselves as above the law.
In Why Our Status Quo Failed and Is Beyond Reform, I explain why the only possible output of these systems is failure.
The sole output of America's Establishment/Ruling Elite is self-serving hubris.
In the open market, failed leadership has consequences. Customers vanish and the enterprise goes bankrupt, or shareholders and employees rally to fire the failed leadership.
In our state-cartel system, failed leadership only tightens its grip on the nation's throat. The Deep State can't be fired, nor does it ever stand for election. The two political parties are interchangeable, as are the politicos who race from fund-raiser to fund-raiser.
It's tempting to blame the individuals who inhale the wealth and power of our failed system, but it's the system, not the individuals, though a more corrupt, craven, self-serving lot cannot easily be assembled.
In broad brush, the Establishment and its Ruling Elite are still fighting World War II. The solution to the Great Depression and fascism was to cede complete control of the economy, the media and the social order to the central state.