Cheap, Tasty, and Harmful to Your Health: Ramen Noodles
Published on October 11, 2016 by admin · No Comments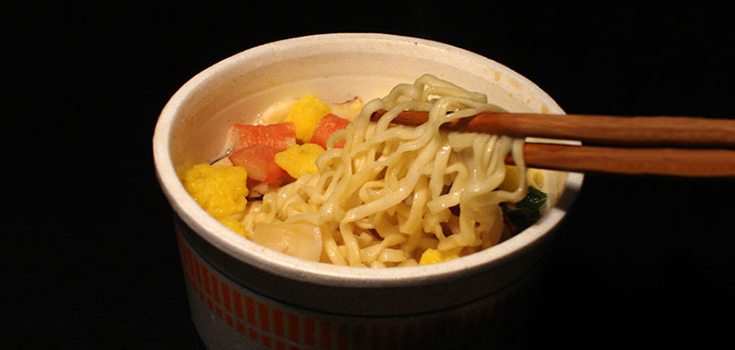 Ramen noodles are cheap, easy to make, and they taste good, which is why so many college kids live on them in school. I know I did. You can buy a whole box of them for just a few bucks. Between instant noodles, Lucky Charms, and cappuccino, I ate like I had a death wish in college. And though indulging in the occasional cup of noodles won't kill you, but living on them could shorten your life.
MSG Is Addictive, And May Contribute To Several Health Problems
Instant noodles, of course, contain an ingredient called MSG, which is bad enough. For starters, MSG has been linked to weight gain and obesity. So, combined with the piles of carbs found in ramen noodles (27 grams in a cup), this cheap "snack" doesn't help your waistline.
MSG is also an addictive substance that is put in food to make you want more of it. And if you're eating a lot of salt, there's a good chance you'll be really thirsty. Don't think restaurants and the food industry don't make a killing off these facts.
And if that isn't enough to make you swear off MSG and ramen noodles forever, consider this: the processed food additive is a neurotoxin that causes cells in the hypothalamus to shrivel and die.
Nearly 20 years ago, I worked in the dining industry, and regularly ate the same meals that were served to customers. It took me a while, but I finally figured out that the daily migraines I was suffering from always showed up soon after I ate on the job.
You get the idea: MSG is incredibly unhealthy.
I came across a study posted on Facebook from 2014 that caught my attention. I realize it's a 2-year-old study, but it was too important to ignore. The findings of this particular study werepublished in the peer-reviewed Journal of Nutrition. 
The study involved a total of 10,711 adults from South Korea, a little over half of them women, age 19-64. The participants were assessed using a 63-item food-frequency questionnaire.
Two major dietary patterns were identified by the researchers. The "traditional dietary pattern" included vegetables, fish, fruit, potatoes, and large amounts of rice. The "fast-food pattern" involved less rice but frequent sodas, fried foods, and fast food, including ramen noodles.