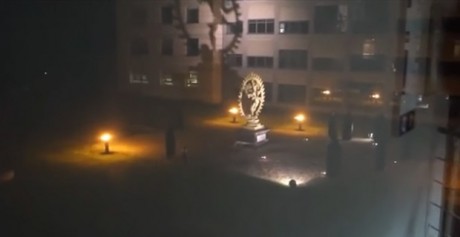 Have you seen the video of the "mock human sacrifice" that was conducted right outside the entrance of CERN? A spokeswoman for the European Organization for Nuclear Research (more commonly known as CERN) has told the public that this ritual happened without their permission and that they are looking into the matter. If this "occult ritual" was indeed some kind of "sick joke", what was the motivation? This new video continues a long string of bizarre events related to CERN and the Large Hadron Collider that is housed there. Last month, I wrote about strange "portal-shaped clouds" that formed over CERN during recent experiments. And the the director of research at CERN, physicist Sergio Bertolucci, has publicly admitted in the past that the Large Hadron Collider could potentially open up a "door" to "an extra dimension". There has been so much speculation about what is really going on there, and that makes this latest video that much more creepy. If you have not seen it yet, you can view it on YouTube right here…
There are so many unanswered questions about this video, but here are ten things that we do know at this point…
#1 There were eight people in black robes and one woman involved in this mock human sacrifice. The fact that the eight shrouded individuals were wearing black robes means that someone definitely wanted this to look like an occult ritual.
#2 This ritual was conducted directly next to the statue of the Hindu god Shiva that stands at the entrance to CERN. In Hindu lore, Shiva is the "god of destruction", and this spot was obviously purposely chosen.
#3 During the ritual, a woman walks into the middle of the group, disrobes, and willingly lies on the ground.
#4 Subsequently, one of the individuals in black robes pulls out what looks like a knife and brings in down in a stabbing motion toward the woman. After that, the video quickly ends.
#5 CERN is officially calling this ritual "a work of fiction" and says that this was done without their permission or knowledge…
The video, shot from a window of a nearby building, is a "work of fiction showing a contrived scene," officials said on Thursday.
"These scenes were filmed on our premises, but without official permission or knowledge," a spokeswoman for the European Organization for Nuclear Research (CERN) told the AFP news agency.
#6 It appears that CERN may know exactly who was involved, because their spokeswoman told the press that CERN "welcomes every year thousands of scientific users from all over the world and sometimes some of them let their humor go too far" and that "those responsible for the prank had access badges". If this is indeed the case, why keep their identities secret?
#7 Previously, a bizarre "dance of destruction" was filmed at CERN with their full knowledge and permission that you can view right here. Many have pointed out that the "dance of destruction" appears to contain at least some occult elements.