If we could just get consumers to borrow more so that they spend money they don't have on things they don't need in order to boost GDP and corporate profits, all would be fine. That's the current meme among economists.
Since 68.5% of US GDP is related to personal consumption expenditures, boosting consumer spending is seen as crucial. Since wages at the lower 75% are crummy and have not been rising enough to keep up with inflation, the only other way to prod consumers into spending more is to bamboozle them into borrowing more and blowing this moolah instantly.
Cutting interest rates to zero was supposed to have helped that noble process (though consumers see those zero-rates inexplicably only on their savings and not on their debts). So that process of growing GDP by loading up consumers with debt, which worked for decades, has stalled: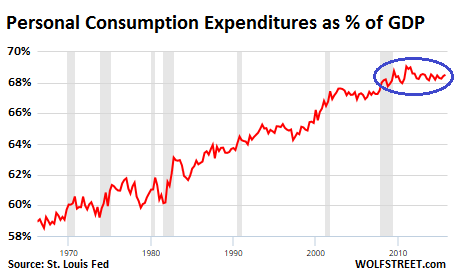 Clearly, this strategy has bumped into some limits. And what is left over is debt weighing on people's shoulders.
A lot of debt, for a lot of people: 61% of Americans say they carry at least some debt, according to a new report by Gallup that shows to just what extent carrying debt impacts consumer behavior and drags down consumer spending. As Gallup put it, "not buying things is bad for the economy." But that's exactly what a large portion of debt-carrying consumers are forced to do.
Consumer behavior is even more strongly impacted by the scourge of the American economy, "not having enough money to live comfortably," as the survey found, which surprises no one. But consumers that carry debt – even people "who have enough money to live comfortably" – play a large role in the current economic quagmire.
These folks are "significantly more likely" to engage in a variety of cost cutting actions than those who're debt-free. The most important cost-cutting actions?
46% put off a major purchase, such as major appliances, a vacation, or some home improvements.
31% put off buying a car.
20% sold off some of their possessions to make ends meet.
63% have engaged in a least one of the 10 cost-cutting behaviors in the survey.