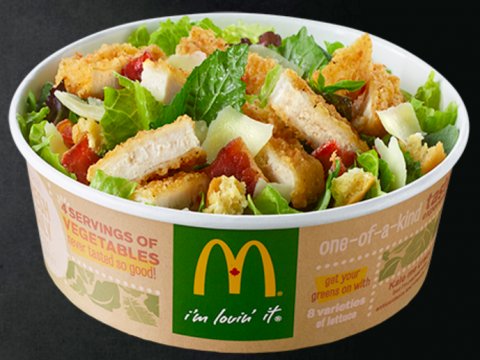 McDonald's Canada's "Keep Calm, Caesar On" crispy chicken salad. Source: McDonald's Canada
The company is marketing the salads as healthy alternatives to McDonalds' traditional menu. The fast-food chain touts "4 Servings of Vegetables Never Tasted So Good" for its Caesar Salad with Crispy Chicken bowl, while urging customers to "get your greens on."
The food chain boasts on its website that the "delicious" salad is made with a "nutrient-rich lettuce blend with baby kale, delicately topped with delicious crispy bacon, real parmesan petals and roasted garlic focaccia croutons."
Don't be fooled by the description. The "superfood" Caesar Salad with Crispy Chicken contains 730 calories – 50 more than a Big Mac's 680 calories. [1]
Take a look at the salad's nutritional profile compared to McDonald's other offerings:
Kale Caesar Salad Crispy Chicken
730 calories (with dressing)
10g saturated fat
100mg cholesterol
1140 mg sodium
(You can order grilled chicken instead of crispy (fried), but it will only save you 150 calories.)
Bacon McDouble Sandwich
420 calories
9g saturated fat
70mg cholesterol
1050mg sodium
Big Mac
520 calories
10g saturated fat
70mg cholesterol
950mg sodium
10-Piece Chicken Nugget
460 calories
5g saturated fat
70mg cholesterol
820mg sodium
Large French Fries
560 calories
3.5g saturated fat
0mg cholesterol
420mg sodium
Regular Oreo McFlurry
560 calories
12g saturated fat
45mg cholesterol
390mg sodium [2]
A McDonald's representative told CBC that customers can swap other ingredients to make the kale salad healthier, such as excluding the dressing, which would reduce the calories to 520 and cut the fat nearly in half.
But that's not really the point.