Some Believe Mysterious "Floating Cities" Caused By CERN Wormhole
Published on March 27, 2016 by admin · No Comments
Recent footage of another instance of a "floating city" in China has once again gone viral.
While many explain the phenomena as natural "fata morgana", a type of optical illusion, the Inquisitor point out that the most recent "city sighting" may have some very un-natural origins:
The ghostly "floating city" was witnessed by hundreds of stunned residents of Dalian who stopped to gawk and snap photographs of the massive ghost city with towering skyscrapers that loomed in fog or city smog over the Dalian harbor.
Footage uploaded to YouTube on March 19 by China's CCTV News shows scores of residents observing, photographing, and filming the mysterious phenomenon and asking what it could be.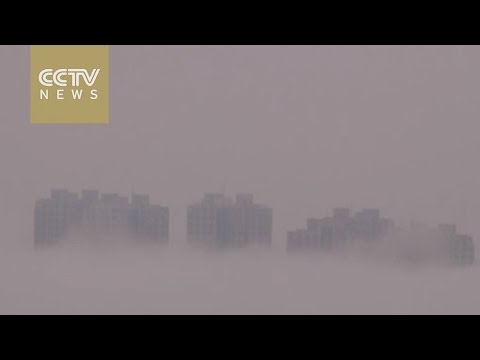 The latest incident in China follows the recent appearance of a "ghost" or "floating city" over Foshan in China. The recent spate of sightings of ghostly floating cities in China and other parts of the world have sparked conspiracy theories about intrusion of a "parallel universe" into our world through an inter-dimensional portal due to the creation of a mini-black hole by CERN scientists conducting experiments using the Large Hadron Collider (LHC).
But meteorologists have dismissed the conspiracy theory claims, saying that the latest incident in China, like the previous, is a natural phenomenon, an optical illusion called Fata Morgana.