10 Ways CBD Can Change Lives
Published on January 5, 2016 by admin · No Comments
CBD, or cannabidiol, is finally being recognized as a revolutionary natural healer, offering a host of medicinal uses.
CBD is one of over 60 compounds found in cannabis that belongs to a class of molecules called cannabinoids. Of these compounds, CBD and THC are usually present in the highest concentrations. Most people are familiar with THC as the prominent compound in the marijuana that is smoked and eaten, but CBD research has been growing to show various health benefits, without the high.
It's completely legal to distribute and purchase, and is easily the most exciting active cannabinoids present in the cannabis plant.
We at HoneyColony are pushing for more natural ways to heal, so we've provided 10 Ways CBD May Change Your Life.  
We have also compared all the available options in the market and identified thehighest quality CBD product available, winner of the 2015 Hempcon Cup for Southern California's "Best CBD" (you can purchase one directly here).
According to a 2013 review published in the British Journal of Clinical Pharmacology, studies have found CBD to possess the following medical properties: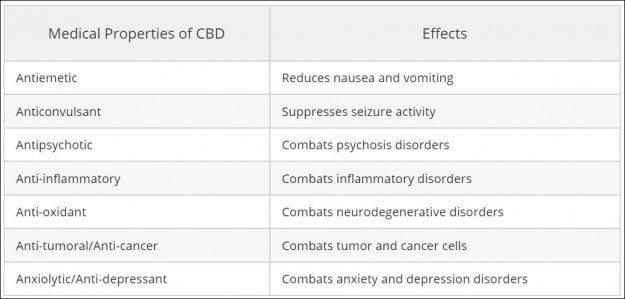 1. Seizure Suppression
The earliest record of cannabis being used to treat epilepsy goes back as early as 1800 B.C.E. in Sumeria. In 2014 the FDA moved forward with allowing the drug Epidiolex, a 99% oil-based extract of CBD,to aid in fighting childhood epilepsy.Results from a 213 panel study  showed a 54% decrease in seizures in 137 people who completed the 12 weeks on Epidiolex. Those tested had no success with any prior treatment, and of the 25 patients who had Dravet syndrome, there was a 63% decrease in seizures over the course of three months. Participants ranged from 2-26 years old, and the results gave notice that CBD oil may also be beneficial for children who suffer from seizures.
2. Anti-Inflammatory and Pain Reduction Properties
Inflammatory diseases can be crippling—Rheumatoid arthritis for instance, is caused by the body's immune system attacking itself, and causes severe inflammation. Research at the Kennedy Institute of Rheumatology suggests that CBD can block the progress of arthritis without any of the typical marijuana effects.
IL-6 stimulates both the inflammatory and autoimmune responses in many diseases, such as diabetes, Alzheimer's, and prostate cancer, but can be suppressed, and its secretion reduced, with the introduction of CBD. This leads to a reduction of pain, and returns function to the areas effected.