16 Billion Reasons to Tax Religious Organizations
Published on December 25, 2015 by admin · No Comments
A new study by the Secular Policy Institute suggests that religious organizations in the United States collected $71 Billion in tax breaks last year.
According to the Secular Policy Institute, if religious organizations were taxed like for-profit agencies, it was found that his could generate upwards of $71 billion in tax revenue per year. Even if the churches were held to the same standards as other non-profits, this could generate $16.75 billion in tax revenue per year.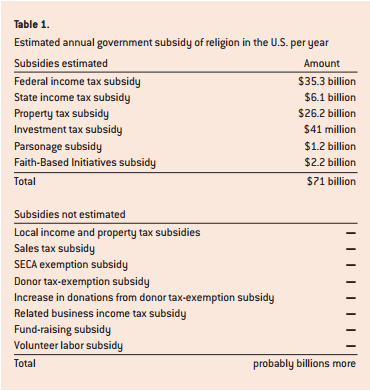 "Religious organizations do not meet the requirement of a charitable organization for tax purposes."
As the Secular Policy Institute notes, mosts religious organizations fall into the category of 'charitable' entities. According to a research report by Secular Humanism, How Secular Humanists (And Everyone Else) Subsidize Religion in the United States:
The researchers calculated that the Mormon Church, for example, spends roughly .7% of its annual income on charity. Their study of 271 congregations found an average of 71% of revenues going to 'operating expenses,' while help to the poor is somewhere within the remaining 29%. Compare this to the American Red Cross, which uses 92.1% of revenues for physical assistance and just 7.9% on operating expenses. The authors also note that Wal-Mart, for instance, gives about $1.75 billion in food aid to charities each year, or twenty-eight times all of the money allotted for charity by the United Methodist Church and almost double what the LDS Church has given in the last twenty-five years.
". . . The Church of Jesus Christ of Latter-day Saints (the LDS or Mormon Church) . . . gave about $1 billion to charitable causes between 1985 and 2008. That may seem like a lot until you divide it by the twenty-three-year time span and realize this church is only donating about 0.7 percent of its annual income."
NASA requested a $17.5 Billion budget for 2015. If churches paid taxes under the non-profit banner we could easily fund more sciences programs that actually give back to society.