Survey Finds Babies Routinely Given Smartphones
Published on November 5, 2015 by admin · No Comments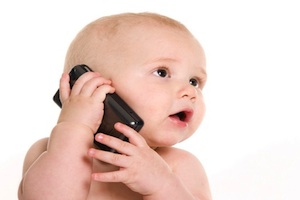 Many children under age five own their own smartphones and tablets, and they often use the devices without any supervision or help from their parents, a small U.S. study suggests.
While the results – based on surveys of parents in 350 households in Philadelphia – aren't nationally representative and the study didn't measure the impact of heavy technology use on the children, the findings highlight "the pervasive nature of digital exposure," among very young children, co-author Dr. Matilde Irigoyen of Albert Einstein Medical Center in Philadelphia said by email.
Nearly half of babies in the study used mobile gadgets daily before they reached their first birthday, and by age two more than three-quarters of children did so, according to the study published today in the journal Pediatrics.
Parents are generally advised to avoid screen time before age two because it's thought to interfere with learning and language development, noted Dr. David Hill, chair of the council on communications and media for the American Academy of Pediatrics.
These recommendations predate the invention of smartphones and tablets. Even though television exposure at an early age has been linked to impaired language skills, the evidence around any benefits or harms from mobile games and apps is less clear, Hill, who wasn't involved in the study, said by email.
"Parents should know that any claims they hear about kids learning from mobile devices are not backed up by solid science," Hill said.