Video: Reality Check-The Ugly Truth of the Fiscal Cliff Deal
Published on January 7, 2013 by admin · No Comments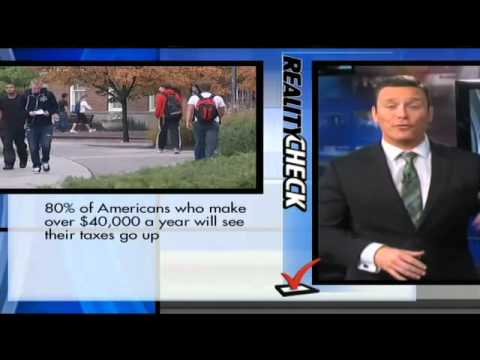 The House has passed the fiscal cliff bill and that means the American economy has been saved from disaster.  At least that is what lawmakers in Washington might tell you.  So what is the truth behind this fiscal cliff bill?  Ben Swann has the ugly details in a Reality Check you won't see anywhere else.
The core of the argument over the fiscal cliff is that the richest Americans would have to pay more and middle-class families would be spared.  That was the narrative that the national media helped to sell you.  So, now that the fiscal cliff bill has been passed, what does it actually mean?  Here are a few highlights from what's in the bill:
Income tax rates are increased from 35% to 39.6% for individuals earning over $400,000 and couples earning over $450,000.
Estates will be taxed at a top rate of 40%
5-year extension of the child tax credit, the earned income tax credit, and the $2,500 tax credit for college tuition.
Extends jobless benefits for the long-term unemployed for one year.
So, for all of that fighting, how much in tax revenue will now be raised? Only $620 billion dollars over the next 10 years will be raised.
Remember the $1 trillion in cuts that was supposed to start this year from last year's debt ceiling fight ($500 million from domestic programs, and $500 million from military spending)?   This bill delays those cuts for at least two months.
Meanwhile, the new bill does not protect against the expiration of a payroll tax deduction, which means that 80% of Americans who make over  $40,000 per year will see their taxes go up.  According to the Tax Policy Center:
Households making between $40,000 and $50,000 will face an average tax increase of $579 in 2013.
Households making between $50,000 and $75,000 will face an average tax increase of $822 in 2013.
But, it wouldn't be Washington unless there were special interest tax breaks.  Those are in this bill as well, including:
$430 million for Hollywood through "special expensing rules"
$331 million for railroads in tax breaks
$222 million for Puerto Rico and the Virgin Islands on taxes collected on rum
$70 million for NASCAR
$59 million for algae growers
What this means for you is that Congress cut virtually nothing from its own budget, but had no problem cutting into the budgets of Americans making $40,000 per year and up.
Remember, after all the fighting, the new tax bill only raises $620 billion dollars in new revenue over the next 10 years, which means that we are raising $62 billion dollars in new tax revenue per year (on average).  The U.S. spends $3.4 trillion dollars each year, with $1.3 trillion in borrowed money.  The $62 billion will pay for only two months of debt each year.
At the end of the day, this whole fiscal cliff drama was nothing more than political theater with the same end result: government raised taxes on those whom they promised not to raise taxes, while making no real cuts and is spending more money than ever. The fiscal cliff bill actually increases spending by $4 trillion dollars over the next decade.