Marijuana Reform Facebook Ads Restored After Social Network Ends 'Just Say Now' Ban
Published on August 15, 2012 by admin · No Comments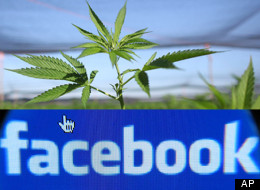 Facebook turned over a new leaf Monday, unblocking advertisements promoting a marijuana legalization campaign involving a set of November ballot initiatives across the country.
The social media giant conceded to Internet freedom advocates over the past week that it had erred in yanking a pro-legalization group's ads from its network because of pot leaf images. Parties involved in the controversy confirmed the Facebook decision to The Huffington Post on Monday.
Just Say Now organizer Brian Sonenstein told The Huffington Post that the leafy ads were no longer listed as disapproved on Facebook.
When the online campaign's ads were submitted for review earlier this year, Facebook outright rejected them, as it did the group's ads two years ago. In 2010, Facebook took down Just Say Now's ads after about a week on the social network.
More than 15,000 supporters signed an online petition calling for Facebook to bring back the latest batch of Just Say Now ads, catching the eye of the Electronic Frontier Foundation and the American Civil Liberties Union Foundation of Northern California.
The two free speech groups approached Just Say Now and Students for Sensible Drug Policy — which had found itself in a similar situation — about appealing to Facebook. Electronic Frontier Foundation activism director Rainey Reitman and ACLU staff attorney Linda Lye said they held several discussions with Facebook executives from Wednesday to Friday. Lye said the Facebook representatives were "quick to admit" they had either misinterpreted or failed to follow Facebook advertising guidelines.
"Their position was very clear — and we certainly applaud it — which is that Facebook is a neutral platform," Lye said. "It does not weigh in on political advocacy, and it was a mistake to reject the ads."