Portion Sizes in Restaurants Quadruple Since 1950s
Published on July 9, 2012 by admin · No Comments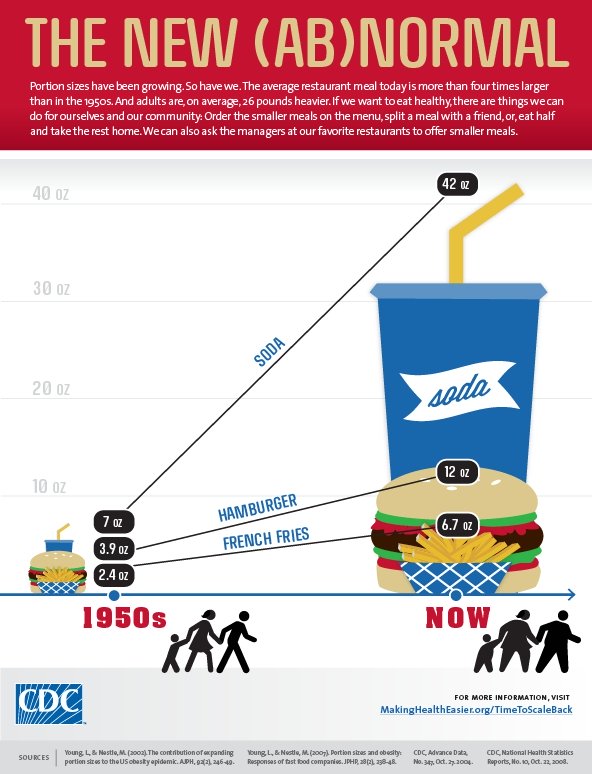 It seems that while obesity rates have risen over the decades, so have portion sizes – not a particularly surprising connection. In fact, an incredibly alarming infographic helps to show that not only have meal sizes increased in size over the decades, but restaurant portion sizes have quadrupled since the 1950′s.
Portion Sizes Grow 4 Times Bigger Since 1950′s
Could this be the reason for the ballooning obesity epidemic? The infographic created by the Center for Disease Control and Prevention shows that hamburgers and french fry meals have tripled in size over the decades, while a cup of fountain soda is a whopping 6 times larger today than it used to be. A 2.4oz portion of french fries has grown to 6.7oz; hamburgers from 3.9oz to 12oz; and soda from 7oz to 42oz.
What may be even worse is that accompanied by this massive increase in portion sizes is the heavy use of harmful and toxic ingredients. While the ingredients used in food used to be minimal, you can find a plethora of toxic substances in the majority of food today, including MSG, aspartame, high-fructose corn syrup, artificial coloring, neotame, caramel coloring, and much more. McDonald's chicken McNuggets, which would be expected to have nearly 0 ingredients, contains autolyzed yeast extract, dimethylpolysiloxane, sodium phosphate, to name a few ingredients. Even something as simple as 'strawberry flavor' consists of nearly 50 different chemicals. These ingredients along with many more can be found throughout the mainstream food supply.