2011 Now Deadliest Year for Tornadoes Since 1953
Published on May 31, 2011 by admin · No Comments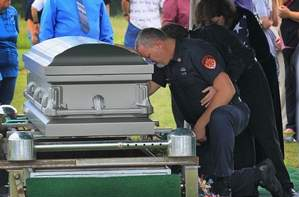 © Joe Raedle / Getty Images
Kevin Chew prays by his father's casket Saturday in Seneca, Mo. Raymond Chew Sr., 66, died of injuries sustained in the tornado.
The death toll from the monster tornado last week in Missouri has risen to at least 139. Joplin City Manager Mark Rohr said Saturday during a news conference that the death toll rose to at least 142, but later revised that figure down without elaboration.
That makes this the deadliest year for tornadoes since 1953, based on an assessment of figures from the National Weather Service.
If the death toll does stand at 139, it would place this year's tornado death toll at 520. Until now, the highest recorded death toll in a single year was 519 in 1953.
Missouri says the number of people still unaccounted for since the Joplin tornado May 22 is now 100. State Department of Public Safety Deputy Director Andrea Spillars said Saturday that within that number, nine people have been reported dead by their families, but state officials are working to confirm. She said the temporary morgue has 142 human remains, but that includes partial remains.
To Read Entire Article CLICK HERE